Do you love fishing? You're at the right spot!
Research says that there is almost 30% of whole population that love fishing as a hobby. There are even a lot of people who've made their businesses out of fishing.
Catching a fish in the middle or the sea or a river sounds a fun task but it isn't easy at all. It involves a lot of expertise as well as equipments. Basic tools includes a fishing rod, fishhooks, baits, weight and floats but as revolution has touched every aspect of our life, how cab fishing be left afoot.
We've seen a lot evolution in the fishing tools in recent years. They have moved from simpler ones to more complex ones with high technology to lessen our burden. We've listed the 5 best fishing gadgets that you should own make your fishing expeditions more rewarding and less demanding.
COMPACT RECHARGEABLE USB HEADLAMP

If you love night fishing, you must be aware that there is nothing more frustrating than fishing in dark.The old kind of headlamps required physical batteries and it was very common to forget changing the batteries.
Well, with the compact rechargeable USB headlamp, you'll never face a similar situation again.You can charge it up and it will provide you the much needed light while freeing up your hands, so you can focus on your fishing.
FLOATING WATERPROOF CELL PHONE CASE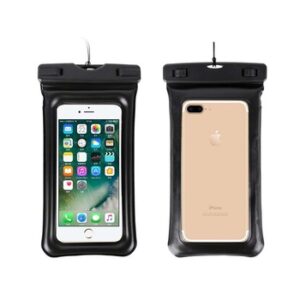 Everyone want their mobile phones with them all the time but using it while fishing can be a bad choice but not anymore.
This floating waterproof cell phone case will protect your phone if it falls down in water and will bring it ashore.
It has a universal fit and can suit most of the mobile phones. You can click underwater selfies and videos without any worries.
FLASHING TWITCHING USB FISHING LURE
This amazing revolution in the world of fish lures has astounded a lot of people.The flashing twitching USB fishing lures looks exactly like a wounded fish and it even twitches and buzz which makes it even more real and attracts a lot of fishes.
You can use this lure in any kind of water body with fishes like lakes, rivers, streams, dams or surf. It'll work everywhere.
WATERPROOF LED GLOVES

Another cool fishing gadget in the list is the waterproof LED gloves. You can wear them underwater and get a whole good amount of light at night to see what's in front of you.It is very lightweight and stretchy which makes the experience quite comfortable.
The best part is that they can fit anyone easily and can also be used in other ways more than just fishing.
CROSSBODY SLING FISHING TACKLE BAG

You must have faced the situation of not finding something in your bag that you know is there. The crossbody sling fishing tackle bag can come to rescue here.It has multiple compartments to keep everything organised from lure to your mobile phone and it can be conveniently carried over your chest which makes it a perfect must have gadget during fishing.
These revolutionary tools have complemented a fisherman's skills by improving the rate of success that too with minimal effort.
If you think there are any other fishing gadgets that you would like to add in this list, do let us know in the comment section below.