Have you ever come upon a picture and wondered where it came from? Have you ever wanted to obtain greater resolutions of a photograph you own? Or, at the very least, have you ever wished to see whether an image is genuine and not a copy? These are just a few examples of how Google Reverse Image Search might be beneficial.
As you may be aware, the programme allows you to conduct Google searches using photos rather than text terms. Thanks to Chrome integration and plugins, this reverse search has been able to draw user attention over time. Even if there are alternative reverse image search engines, Google has the monopoly. Despite this, the majority of individuals have no idea how to perform a Google reverse image search on their phones. Because Google Reverse Image Search does not consist of a mobile-friendly website or a dedicated Smartphone app, this is the case. However, there are several practical ways to use Google's reverse image search on a mobile device. You may use this to find out additional information about a photograph on your smartphone. In this post, we'll show you how to use your phone to perform a reverse picture search.
Google Reverse Image Search from Mobile Devices Methods
Method 1- What do You need to Know About Using the Desktop Version?
To utilise this procedure, you'll need a few items. As previously stated, Google Reverse Image Search does not have an official app or website. As a result, you'll need:
A smartphone that runs Google Android, iOS, Blackberry, or another operating system.
You'll need a web browser that supports viewing the Desktop version. You may easily obtain Google Chrome, which comes pre-installed on Android smartphones. If you have an iPhone or Blackberry, you can get the browser via the app shops for those devices.
If you can't get Google Chrome installed on your computer, you can use one of the other browsers. Mozilla Firefox on Android, for example, provides a feature that allows you to load webpages in Desktop Mode. If you have these items on hand, we may begin the real instruction.
# Step 1
Go to www.images.google.com via Google Chrome on your smartphone. This is the Google Image Search official page.
# Step 2
There is a mobile-optimized version of the Google Image Search page, as you can see. It lacks the ability to execute a reverse image engine. You'll need to launch the page's Desktop Version to do so.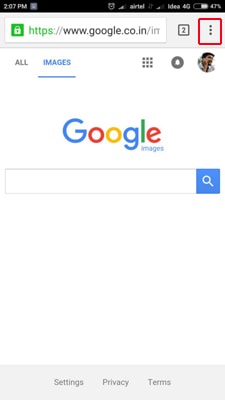 A three-dot icon may be seen in the top-right corner of the page. It is, in fact, a menu button. You must press that button.
# Step 3
Select 'Request desktop site' from the next selection. This will request that the webpage be loaded in desktop mode.
# Step 4
The desktop version of Google Images may be viewed in seconds. A camera icon may be seen in the right portion of the search bar. Select the camera icon.
# Step 5
Soon, you'll come across an area where you'll be asked to provide a picture URL. Select the 'Upload an Image' tab from the drop-down menu. Choose a file from the Choose File button on the right tab.
# Step 6
You must pick the picture file from the device from the dialogue box. The method may change depending on the gadget you own. All you have to do now is choose the file.
# Step 7
If the file is large, uploading may take some time. When the uploading is finished, you'll be able to see the results of your reverse image search.
As a result, we've learned how to use Google Reverse Image Search from your website. In this strategy, we've employed Google to accomplish our goal. All we had to do was turn on the Desktop version.
Method 2. Making use of CTRLQ.org
What Does This Tool Do?
We are employing a third-party service here instead of the Google Images website. It's called CTRLQ.org, and it's a website devoted to various tools and scripts. This operates in a slightly different way than the prior technique. CTRLQ.org turns the picture file into BASE code instead of submitting the original name. The code is then submitted to Google servers. This code is utilised to do the search, which yields accurate results. We'd say its functionality and user interface are excellent.
# Step 1
To use this third-party tool, first, go to http://ctrlq.org/google/images and sign in.
# Step 2
Now, to continue, click the 'Upload Picture' button.

# Step 3
You may choose the image you want to reverse image search on from the related option.

# Step 4
You will be sent to a page when the image has been posted. To see the results, click 'Show Matching Images.'

# Step 5
The Reverse Image Search results are now shown on a mobile-friendly website.
As a result, this approach necessitates the usage of a third-party programme to do reverse image searches from a mobile device. Even so, it's far more user-friendly than the Desktop version technique. If you do so many searches, please consider creating a bookmark – it will be much more convenient.
How to Perform the procedure of a Reverse Image Search – A Summary
So, here are the two approaches for performing Google Reverse Image Search on your phone. Any of the ways listed above can be used if you have an internet connection and the Google Chrome browser. It's a matter of shame that Google hasn't yet released a mobile-based reverse image search option. Having said that, you can achieve the same results using these methods. By the way, do you have any other options for accessing this service? If so, do let us know in the comments section.