Cooking has its own pleasure to prepare a delicious food of your choice. A chopping and pealing of ingredients has been a headache for most. Now you may enter into your kitchen while having a modern and efficient gadgets and tools for an easy cooking task. Whether it's a lack of time or getting you away from being dirt on your hands the kitchen appliances has got its new companion to put you on the top of ease and comfort.
It may happen that you take some time to get used to with the functionality but it'll be a play to you soon. Now is the time to cook food faster than any expert or at least it's going to be a more fun of baking toasting, slicing, dicing and barbecuing. These tools are not only time and effort saving but also keep your kitchen clean and organised. So start a better cooking in an innovative way.
A variety of kitchen gadgets and tools is right here…
Dressing Whiz:
It's no more perplexing to dress up the salads as the tool is here to keep proper toppings to the food even over the table. The through blending of the tool makes it perfect for all types of dressings from Italian to homemade salads. The product has specialty to emulsify and serve vinaigrettes that spreads quickly.
Benefits
A simple measurement marking
Broad front opening for easy filling
An aerated type propeller that do the blending for a long duration
Milk Frother:
The spinning of milk is now more efficient to make it thick and frothed. A milk frother does it in just 20 seconds with a powerful 2AAA type of battery. Now you have a milk ready perfect for cappuccino, lattes and chocolates.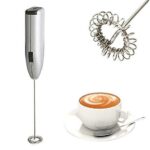 Benefits
Makes the milk more tasty in sweetness, flavour and texture
A self adhesive mount is convenient for hanging
Stainless steel type aerating creates the foam rich in texture
Cookbook Holder:
A perfect storage for the cooking recipes and magazines. Even you may keep safe an electronic cookbook or a tablet PC in its weight and measure conversion trays that come out easily form the base. A powerful splatter guard keeps safe all the content inside along with a chef's centre that is foldable to store on locations low in space.
Benefits
A 360 degree base is easy to access
Adjustable to all size and shaped books e-readers and tablet PCs
The screen is guarded by splash to keep pages flat and safe