If you've ever used a device that runs stock Android, you'll know that it includes one of the greatest Android phone dialer applications ever created. I mean, there aren't any flashy features or anything, but everything works well. However, few Android device makers are talented enough to maintain such a UI. Don't worry, we've got a good answer. It's not about bringing back the stock Android phone app or anything like that. However, we have compiled a list of the 12 top dialer applications for Android smartphone users.
Best Android Dialer App 2022
#1. Simpler Dialer
The name suggests that Simpler Dialer does exactly what it says. It's a straightforward Android dialer software with a tabbed interface and handy functions. It has practically every function you'd expect to see in a dialer software, but the UI steals the show. Simpler Dialer is a good choice if you require productive dialer software with a lot of functions.
Features:
Call banning and group texting are also available.
Outstanding contact management, merging, synchronising, and duplicate detection.
Backup of contacts both offline and online.
Options for Smart T9 Dialer and Smart Clean-up.
#2. RocketDial Dialer
RocketDial Dialer is a frequently updated dialer software for Android that is used by thousands of users. It has a basic, black appearance that is simple to use. The simple interface is appropriate for virtually all of the brand as you may be utilising. It has some excellent features that are beneficial for organising and easy access. If you're searching for a feature-rich Android dialer, look no further.
Features:
Backup and restore with a single click.
In-Call Notetaking with Caller ID
T9 Lookup and Call Confirmation
Management of a group
#3. Contacts+
Contacts+ might be a fantastic replacement for your existing OEM-based dialer. This programme has several nice features such as contact management, merging, and duplicate detection. You may also modify how it displays your contacts and call records for maximum convenience. It also serves as a platform for you to connect with your friends and other individuals.
Features
Provides safety for your saved contacts using encryption and other means.
Caller ID and call blocking engines are built-in.
Deep integration with applications such as WhatsApp, Messenger, Duo, and others.
Android Wear compatibility and customizability
#4. Drupe
Drupe is a unique Android dialer software that gets the job done. It is accessible in a variety of languages and includes a plethora of functions. Drupe keeps things basic when it comes to design. When you open the dialer app, you will see contact information as an overlay, such as Favourites and the Dialer. Drupe may be launched simply dragging the droplets on the screen.
Features:
Call recording capability is built-in.
Caller ID Tracker is a tool for determining the identification of incoming phone numbers.
GIF Stickers may be assigned to contacts and displayed when calling.
Account integration for WhatsApp, Duo, Allo, and more services.
#5. ZenUI Dialer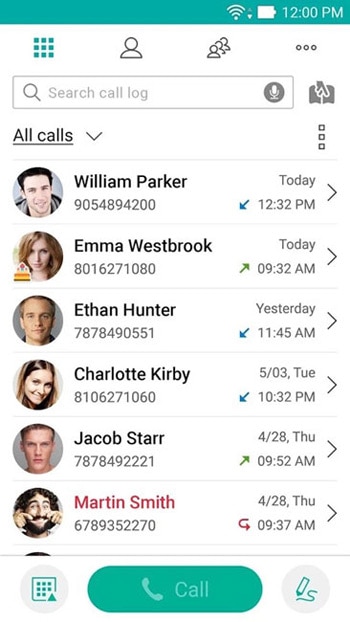 As you might expect, ZenUI Dialer is an ASUS product that serves as the default dialer for ASUS devices. It's a wonderful pick if you're seeking a basic yet functional Android dialer software alternative. The dialer places a higher value on organising your call records and contacts for simple access. Furthermore, the UI is compatible with practically all sorts of skins, independent of brand or UI.
Features:
Unwanted calls can be blocked using an in-built capability.
Contact list and call logs are password-protected.
Merging and duplicate finds are two contact management functions.
Themes and customisation are available.
#6. Truecaller
Truecaller: Caller ID & Dialer, as you may know, is both a dialer and a caller ID software. It performs a good job as an app, especially when it comes to arranging the details. It's an added convenience to be able to see who has phoned you immediately from the Calling Screen or Call Log list. It is also making modifications to the call screen, where you can receive enough information and controls. It's also quite simple to set up. The greatest Android dialer app in the feature-rich category.
Features:
There is an option to prevent spam and telemarketing calls.
Find information about a phone number in the Call Log and when there is an incoming call.
Individual and series-based call banning
Dual SIM and theme support are included.
#7. OS9 Phone Dialer
If you like the iOS Dialer software, you should try OS9 Phone Dialer, which is a terrific choice from the Google Play Store. The programme is essentially a copy of the iOS dialer app, allowing you to handle things with a few gestures. It has a larger dial-pad than other dialers, which is useful if you are familiar with T9 Search.
Features:
Improved connection with WhatsApp and other IM services.
Call blocker and caller ID concealment
Speed Dial and Dual SIM management
#8. Eyecon Dialer
Eyecon Dialer, one of the most feature-rich applications on the list, is really another all-in-one phone management tool. You may use it to manage your call records, contacts, and even enable Caller ID. When compared to the other applications we've discussed so far, Eyecon Dialer is more visually focused. Instead of reading a lot, you can quickly handle everything by utilising symbols and graphics, which is ideal for seniors as well.
Features:
Integration with virtually every significant social networking platform.
A visually appealing design that is simple to use.
Caller ID is a function that helps to keep spam at bay.
Editing the global address book is possible.
#9. Contakts
Contakts Address Book is an all-in-one Android contact management app. In fact, it includes a gorgeous and simple-to-use Android dialer. So, if you want to have your contacts arranged in an eye-catching manner, Contakts Address Book is the way to go. People prefer it to the stock dialer for a variety of reasons, including customization through a selection of themes, performance enhancements, and so on.
Features:
Contact management and organising at its best.
You may also sync contact information with Facebook.
There are only a few advertisements.
#10. Metro Phone Dialer
Metro Phone Dialer is designed in the style of Microsoft Metro programmes. When it comes to providing a quick and easy way to reach your contacts via dialer, the app excels. The whole interface has been divided into sections, each of which provides you with a unique perspective of your logs and contacts. From a usability standpoint, the tab-based UI simplifies everything.
Features:
A sleek Metro UI design that is also compatible for Dark themes.
Contact operations and management, both basic and complex.
Theme selection based on 12 colours.
It's completely free.
#11. True Phone Dialer
True Phone Dialer is one of the most popular Android dialer applications available on the Google Play Store. It has a 4.6 rating and roughly 100k installations, which is fantastic. The dialer app makes use of a simple design strategy that allows for complex functionalities. True Phone Dialer outperforms the other dialers we've studied so far in terms of call-based functionality.
Features:
A capable contact manager.
Dual SIM and Theme support has been expanded.
The Recent Calls area has been cleverly grouped.
T9 Search, as well as improved navigation features.
#12. ExDialer
ExDialer is without a doubt one of the greatest dialer apps for Android. It restores the utmost simplicity of the standard Android dialer while adding some new capabilities. If your OEM-based dialer is jumbled and difficult to handle, ExDialer is worth a go. The call record may be seen with sufficient data such as number, time, and length, and the dial-pad can be shrunk as well.
Features:
The interface is simple and smooth.
Gestures for one-touch calling and texting are built-in.
When you join or stop calls, you have the option to enable vibration.
Themes and plugins such as GeoCoder, which displays geographical information of a number, are available.
Final Thoughts
So, those are the top 12 Android dialer applications available today. From the standpoint of usability, each of them may make call handling easier than you imagine. Which of the finest Android dialer applications is your favourite? Please let us know in the comments.